Micro Trainer System
ABITEC's Micro Trainer Product range consists of a number of Microprocessor, Micro-controller and Programmable Logic hardware products that have a common digital Input/output bus compatible with ABITEC's range of hardware Applications.
Currently hardware products are available for the Z80 (8 bit), 8086 and MC68000(16 bit) microprocessors, 68HC11 and 8051 micro-controllers, PIC16F877 and PIC16c5x RISC micro-controllers, ARM7S and ARM3S Cortex (32bit) Micro-controllers and the ispLSI2032E Lattice programmable logic device(PLD).
Most of our Micro-Trainer packages are available with WINDOWS communication software
The hardware is complimented with a range of CROSS DEVELOPMENT SOFTWARE packages for ASSEMBLER and 'C' LANGUAGE programming.
MICRO-TRAINER PRODUCT RANGE SCHEMATIC SYSTEM DIAGRAM
Click on a module for full specifications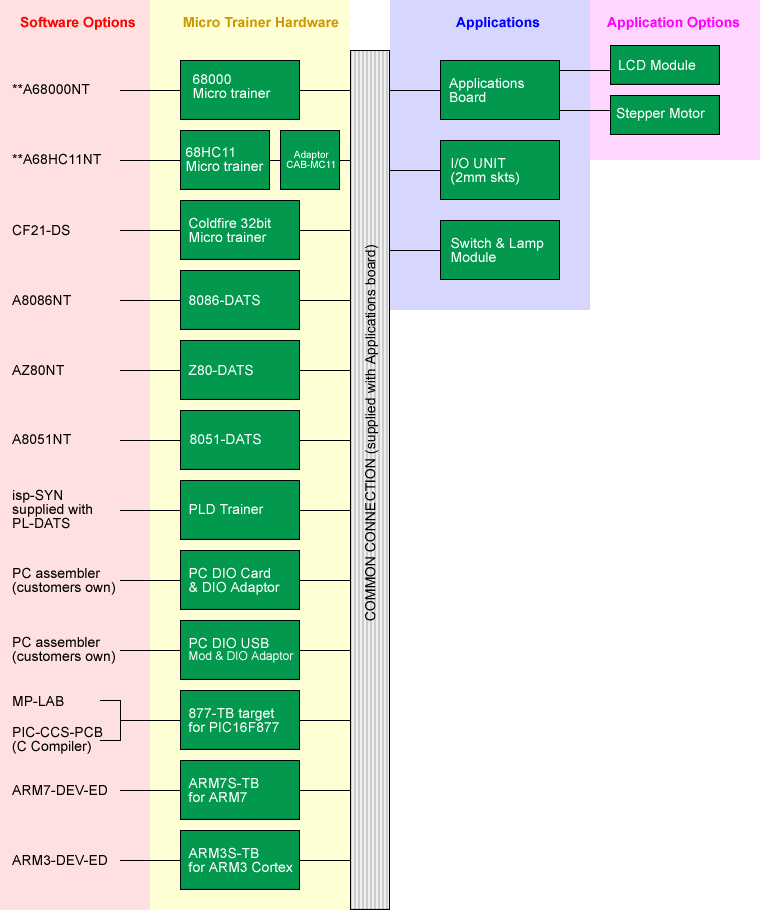 Notes:
The common connection cable CAB-STD is 30cm long and is supplied as standard with Applications board.

Adaptor CAB-MC11 - this is required when using the 68HC11 trainer with Applications board APPs-BD to enable all functions of the Applications board to be used.

*Part No DIO-ADP1 is purchased with APPLICATIONS BOARD APPS-BD as a PC APPLICATIONS TRAINER SYSTEM(PCI) Pt No unless the customer already has the APPLICATIONS BOARD.

*Part is purchased with APPLICATIONS BOARD Pt as a PC APPLICATIONS TRAINER SYSTEM(USB) USB unless the customer already has the APPLICATIONS BOARD.

**All "AxxxNT" cross-assembler software packages are for use on 32bit PCs running WIN95 upwards. If the customer is running Vista or upward the package is supplied with a dongle.

Please note that the ARM7S, ARM3S and COLDFIRE Target boards require Win2000 minimum.
ARM7S-TB trainer can be purchased complete with software as(ARM7S-CDATS).